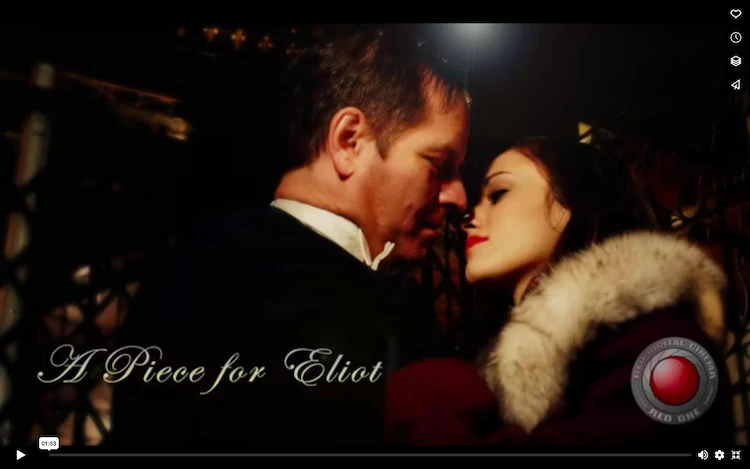 1. Synopsis: Silent Symphony, Charting a Course through Love and War in 'A Piece For Eliot'
"A Piece For Eliot" is a period drama that delicately weaves a tapestry of memories, friendship, love, and sacrifice. In a style reminiscent of 1920s film noir, with allusions to masterpieces like 'The Third Man', this unique narrative unfolds in silence, underscored by the expressive rhythms of visual storytelling.
The film centers around the character of Eliot, a talented cellist. It opens in a lavishly decorated mansion, where Eliot, now aged and physically impaired, sits mesmerized by a flickering fire. The entrance of his old friends Harry and Anna transports us into a vibrant reverie of Eliot's past, ignited by a record placed on a gramophone. This device acts as a vehicle, navigating us through the richly textured narrative of Eliot's life. As the music plays, we journey through a series of deeply evocative scenes, shot at some of Victoria's most iconic locations, like the Bard and Banker and the Mansion.
We witness Eliot's triumphs, his friendships, his love for Anna, and his ultimate sacrifice as he trades his cello for a rifle, and enlists in the war. Despite the film's golden palette and beautifully crafted vintage sets, there's a haunting undertone of tragedy.
Eliot, once a vibrant man playing the cello with intensity and passion, is now shown to be suffering from shell shock and the loss of his arm. However, the warmth of his past memories and the loyalty of his friends lend him strength and solace in the solitude of his old age.
"A Piece For Eliot" is a cinematic poem, where every shot captures a moment frozen in time. The silent narrative pays homage to the grandeur of old cinema, whilst the subtle injection of color breathes a contemporary twist into the mix. We invite you to step back in time and get immersed in this richly nuanced tale of friendship, love, and resilience.
This film was shot using the first prototype of Red 4k, introduced to the public in 2007, in collaboration with DOP Valentin and Director Jordan. We extend our heartfelt gratitude to the individuals and businesses who supported us in this endeavour. We hope you enjoy a glimpse of the journey through Eliot's life as much as we enjoyed bringing it to you.
– DOP Valentin
2. Behind the Lens: The Making of 'A Piece for Eliot' through Determination and Collaboration
Jordan and Valentin's journey of creating "A Piece for Eliot" was one of arduous learning, keen observation, and relentless dedication. As two young directors with a vision for a classic film noir experience, they found themselves not just orchestrating the storytelling process but also navigating the nuances of independent filmmaking in a world of shrinking budgets and increasing competition. The journey from pre-production to post-production was akin to a rollercoaster ride – it was filled with the thrill of creative problem-solving, steep learning curves, and the satisfaction of tangible results.
Jordan's dual role as director and producer primarily involved translating the script into a visual story while managing the various aspects of the film's production, such as the coordination of a large crew and cast of up to 40 people. Meanwhile, Valentin, as the Director of Photography, had a dual role of overseeing the visual aesthetics of the film and troubleshooting the technical problems associated with crew coordination.
The very nature of an independent film production, like "A Piece for Eliot," called for a blend of creative vision and effective project management. Jordan and Valentin had to work meticulously to balance these two realms. Their journey commenced with scouting for the perfect locations, which were not just conducive to the story but also affordable within their independent budget.
A vivid example of their practical learning experience is the letter Jordan wrote to the head of Media Relations at the Maritime Museum. This revealed a significant part of independent filmmaking – the art of negotiation. Jordan had to craft a proposal that would convince the museum to allow them to shoot within their premises, ensuring a win-win situation for both parties. This was a key exercise in project management, understanding the importance of stakeholder management, negotiation, and effective communication.
In another instance, Jordan had to propose an arrangement with private mansion owners for using their car and home as part of the film's set. Negotiating such a sensitive agreement demanded Jordan to put forth a meticulously crafted proposition, offering a fair exchange while ensuring the security and respect of private property. This was a significant lesson in stakeholder relations and risk management.
Working with a mix of professional and amateur crew members, Jordan and Valentin had to maintain harmony and effective collaboration among the team. From involving a renowned actor like Mark to working with qualified crew members like Karl, Valentin, and Tony, they had to ensure seamless coordination between all team members.
Meanwhile, Valentin had to employ his knowledge in computer science and engineering to tackle the visual challenges of the film. His role was pivotal in lighting setups, colour grading, and working with sophisticated equipment like the Red camera, a task that was easy to achieve with the expert lighting design and electrical assistance of Karl.
Their relentless commitment to the project ensured the satisfaction of stakeholders, the performance of their crew, and the adherence to budget constraints. All these experiences equipped Jordan and Valentin with the skills required to navigate the complex world of independent filmmaking.
Despite the challenges, Jordan and Valentin successfully produced "A Piece for Eliot," a testament to their skill, determination, and commitment. Through this journey, they learned invaluable lessons about the nuances of film production and project management, marking a significant milestone in their burgeoning careers.
– DOP Valentin
To go back to our Home Page, click https://skillsgaptrainer.com
To see our Instagram Channel, click https://www.instagram.com/skillsgaptrainer/
To visit our LinkedIn Page, click https://www.linkedin.com/company/skills-gap-trainer/
To see some of our Udemy Courses, click SGT Udemy Page
To see our YouTube Channel, click https://www.youtube.com/@skillsgaptrainer