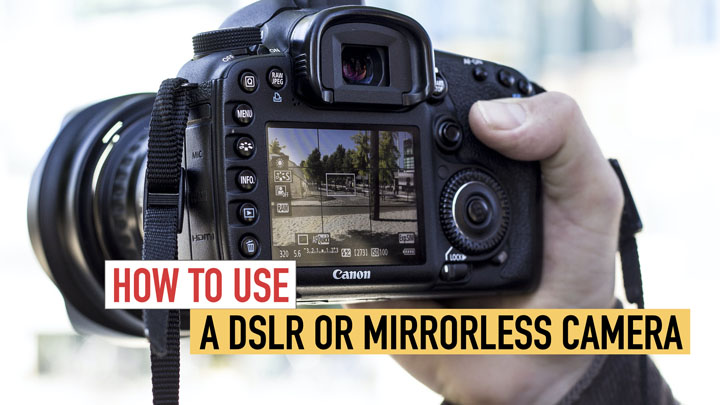 How To Use A DSLR or Mirrorless Camera
Learn how to use an Interchangeable Lens Camera (ILC) system to make great video!
This "How To Use A DSLR or Mirrorless Camera" guide is written for anyone interested in using an interchangeable-lens digital camera to shoot pictures or videos at a professional level of quality. Some images used to explain the concepts are from a Canon DSLR. If you are a user of another type of DSLR, a mirror-less camera, or another type of Interchangeable Lens Camera (ILC) system, you will still find that the concepts are universal and photographic controls are similar among different types and makes of cameras. The concepts of using a DSLR camera to professionally shoot imagery are universal to many different camcorder or photographic camera systems.
Instruction manuals can be confusing. Instruction manuals, when they are between 200 and 800 pages, are the reason why many people operate their cameras from instinct, rather than study. Interchangeable lens camera systems like DSLR Cameras are very complicated pieces of technology, and correspondingly, the manuals provided are also complicated and lengthy. Photographic manuals, which depict every little feature of the camera, are tedious to read. To solve this problem, we have put together a guide that features all of the core principles of camera operation and outlines all of the critical functions of the typical interchangeable lens camera system.
To get good results with a digital camera, the typical camera user should take a bit of time to read the camera's instructional manual and online professional guides on camera use. If the camera user forgets to do this, they run the risk of being limited in what they can achieve with their camera when it comes time to shoot imagery. Simply put, footage shot by a camera user who doesn't know how to maximize and utilize the various functions of the camera, will not look very good. Such a photographer will generally feel frustrated and limited by their skills gap. After studying professional camera guides, you will be able to produce good results under various environmental and lighting conditions.
Another important reason why reading a professional guide on digital camera use is important, has to do with the fact that such cameras are able to produce imagery that looks "unique", "professional" and "cinema-like". The "cinema look" is desirable because audiences instantly recognize the look as having been filmed by a professional or produced by a professional production company. The cinema look can be achieved because interchangeable lens camera systems have a great deal of controls and customizations on board the camera system, which allow the camera to control the recording process. Everything from how light enters the camera, to the type of lens controlling the perspective and many other features.
After taking this course, you will be able to control your camera in the same ways that professional photographers and cinematographers control their cameras as they capture high quality footage. These skills will enhance the quality of the footage which you take, will enhance your enjoyment of using the equipment, and will even prepare you to use the skills of video whenever they may be needed on a project for marketing websites, film productions or other project endeavours. Plus, great video is fun and engaging!
What will students learn?
Mode Dial (Canon), How To Attach or Detach A Lens To A Camera Body, Auto Shooting – Composing The Shot With A Cinematic Perspective, Live View, Shooting Tips (Landscape, Close-Up, Moving Object, Night Portrait, Portrait), Using The Lens Manually, Image Settings (ISO Speed, Still Images), Picture Styles (Auto, Landscape, Neutral, Portrait), Colour Temperature (Kelvin) – White Balance, Program AE, Shutter-Priority AE, Aperture-Priority AE, Manual Exposure, Manual Exposure (Video), Long Exposure (Bulb), Metering, Metering Mode Selection (Evaluative or Matrix, Center-Weighted, Partial, Spot), Other Important Features (Wind Filter, External Microphone, Headphones), Histogram Display (Underexposed, Exposed To The Left, Neutral or Optimal Exposure)
Who is this course for?
Filmmakers or video producers who need to film in a cinematic way.
Photographers who are curious about video production using an ILC camera.
Video makers who have not produced video works in a professional way.
Videographers who haven't filmed in a while, and wish to use an ILC camera.
Business owners who wish to add video to their online platforms.
Social Media specialists.
Marketing specialists.
Anyone who owns a DSLR or mirrorless camera, and wishes to learn the main features.
Anyone who uses a DSLR or mirrorless camera to film videos.
Curriculum
Section 1: Introduction
Section 2: Camera Controls (Part 1 to Part 5)
Section 3: Camera Controls (Important Features)
To go back to our home page, click https://skillsgaptrainer.com
To check out our Skills Gap Trainer YouTube channel, visit https://www.youtube.com/@skillsgaptrainer
To visit our Thinkific course database, click https://skills-gap-trainer.thinkific.com
To visit our Udemy course database, click Udemy instructor page