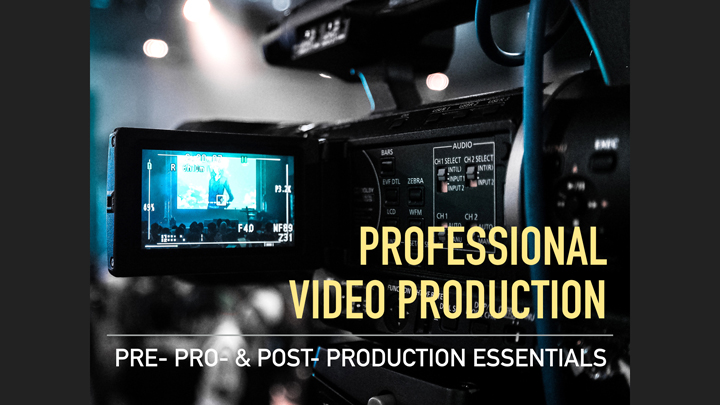 PROFESSIONAL VIDEO PRODUCTION (Course)
In the 21st century, many companies require advanced visual communications to connect and spread information about their products and services to the rest of the world. Visual communication is a skill that is both essential and in demand. This course focuses on the specifics of how to use a leading edge camera platform, a DSLR-like camera, to its full potential so that you are then able to succeed in shooting a professional quality video project. The nature of the project, documentary, film, music video, corporate video, business video, educational video, and so on is not what is essential. The core skill of using your camera effectively is something that can be taken with you and applied to make media of any type as required in your future endeavours.
After taking the course, you will be able to shoot any type of video and most importantly, will be able to avoid many of the production mishaps that can happen when doing live recordings of audio and video. Even if you have used many cameras before, in many projects, production is something that must constantly be learned and relearned so as to maintain the skills at high level, and thus ensure every new production is as good or better than the last. Specifically, you will also learn about the pre-production, production, and post-production process. You will learn about directing, camerawork, lighting, video editing, sound editing, and other key aspects to media creation. Remember, these skills will help you to become or stay a quality media producer.
The skills will help you connect your vision to the ever increasing number of people in the world who connect visually through smartphones, tablets, laptops, computers and smart TVs. As a media producer, you have the opportunity to reach an ever increasing browsing population in one of the most effective forms, video.
What knowledge & tools are required?
No previous experience necessary.
Who should take this course?
This course teaches the foundations of video production. It is a guide for beginners to learn professional video technologies and techniques. It benefits anyone who wants to produce high quality video. The lessons will help beginners to avoid pitfalls and mistakes, which can compromise a production. Intermediate and professional videographers will also benefit from a review of the material.
What will students achieve or be able to do after taking your course?
Students will learn how to plan productions, how to use a DSLR-like camera, how to light a scene and how to perform post-production.
This course meets my needs and answered my questions on multiple topics - including; videography, cinematography, lighting, audio, camera-work, and media leadership. It was interesting how the instructor was able to present deep information, that even a beginner could understand. It was interesting how he can take someone all the way up to cover advanced issues too. I feel it's great value for what I learned and I feel it will help me. It will be more interesting making videos now. This is a five star course! Thank you so much!
I like this course very much. It summarizes a lot of information into concise and insightful lectures. All of the basics, as well as, many important intermediate concepts about video production are explained. The lectures seem to pack in a lot of useful information.The audio and video are very sharp, clear and pro-looking. The instructor is very professional, and I think a natural teacher. I don't know how to make a video, how to use my camera, or how to plan or approach productions. Now I realize what goes into these things. Overall, I am giving this course a high rating because it offers everything that I need in one place.
Register for a Free Trial to see a Free Lecture (on the Course Information Page - Full Screen)
Or go to the homepage: https://skillsgaptrainer.com