This "Manager's Guide: Work Responsibilities & Psychology (Course)"
discusses the issues faced by managers and the responsibilities which they must master."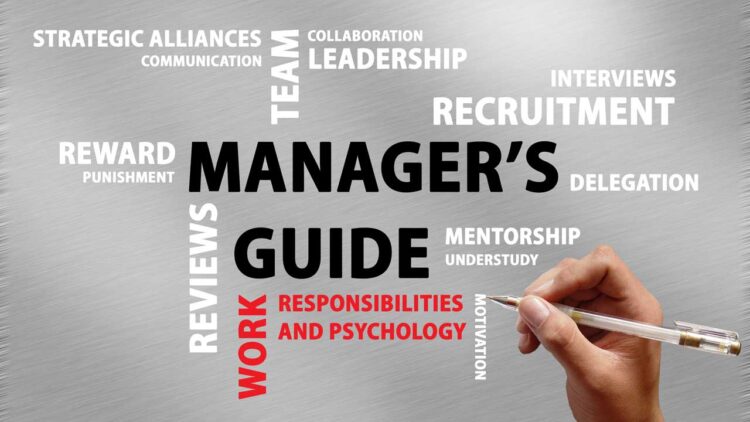 This "Manager's Guide: Work Responsibilities & Psychology (Course)" is divided up into five sections: the introduction to the course, the recruitment of employees, the everyday responsibilities, the evaluation of performance, and the professional techniques. These five sections will provide both theoretical and practical insights, which are applicable to the management role. In the course, you will get information regarding various common management topics.
Format: Video & Powerpoint, Premium Course
Course Curriculum
INTRODUCTION
Lecture 1 - Course and Instructor Introductions (Free)

Lecture 2 - The Management Profession Is Unique Among The Professions
Lecture 3 - Chapter Summary
RECRUITING EMPLOYEES
Lecture 4 - Internal or External Recruitment
Lecture 5 - Sources of Error in Unstructured Interviews
Lecture 6 - Conducting A Structured Interview
Lecture 7 - Offering An Authentic Job Preview
Lecture 8 - Chapter 2 Summary
EVERYDAY RESPONSIBILITIES
Lecture 9 - Manager's Responsibilities
Lecture 10 - Delegation
Lecture 11 - How To Motivate Employees
Lecture 12 - Setting Goals and Using Reward Or Punishment
Lecture 13 - Providing Mentorship
Lecture 14 - Look For And Prepare An Understudy
Lecture 15 - Chapter 3 Summary
EVALUATING PERFORMANCE
Lecture 16 - Assessments And Their Role In Shaping Performance
Lecture 17 - Performance Reviews
Lecture 18 - Reasons For Performance Evaluations
Lecture 19 - Performance Evaluation Process
Lecture 20 - Problems With The Performance Evaluation Process
Lecture 21 - Errors in Performance Evaluations (Free)
Lecture 22 - Chapter 4 Summary
PROFESSIONAL TECHNIQUES
Lecture 23 - Communicating And Collaborating With Human Resources
Lecture 24 - Responding To A Problem Employee
Lecture 25 - Leading A Team Effectively
Lecture 26 - Forming Strategic Alliances
Lecture 27 - Chapter 5 Summary
What are the requirements?
To have an interest in human interaction and behaviour.
To have an interest in the development of professional management skills.
To be open to learning psychological insights which apply to the role.
An ability to handle topics of various complexities, from simple to complex.
It is recommended to review the lectures more than once. It is recommended to write down notes and thoughts after every lecture. These actions will help you to remember the material.
What am I going to get from this course?
Gain experience and insights into the management practice, that will allow you to base your decision making and actions on facts and on best practices.
Improve your practice as a manager through the use of professional techniques.
Become a more objective, insightful and effective leader.
Absorb interesting concepts, terminology and examples, which will improve your ability to discuss the profession with your colleagues and also your self-confidence.
Learn advanced techniques in areas such as team leadership and the formation of strategic alliances, which will prepare you for career advancement.
Make a smooth transition from a worker to a manager, and once a manager, have the knowledge required to stay there!
Become a better manager who is respected by subordinates, superiors and peers.
Who is the target audience?
Production Workers, Team leaders, Supervisors, Managers.
Students of leadership, management, and psychology.
Anyone wishing to become an effective leader or manager.
Anyone wishing to gain an insight into the responsibilities of a manager.
Anyone wishing to understand how psychology impacts the role.
Anyone who is likely to be promoted to a new management role.
A person who is a new manager and is undergoing training.
Management professionals pursuing professional development.
Production workers who wish to understand their manager's role.
Business professionals who need to perform leadership functions.
Business professionals who wish to lead objectively and effectively.
Register for a Free Trial to see a Free Lecture (on the Course Information Page - Full Screen)
Go back to the home page hhttps://skillsgaptrainer.com